If you have ever had the pleasure of using a Hitachi Wand, also known today as the Magic Wand Original, you fully understand the popularity of these personal massagers. After all, they are not called the "Rolls Royce of Vibrators" for nothing! But most owners of a Wand have also wished they could have a smaller, more discreet model for travel. Today, you can! TheOriginalWand.com is excited to announce the launch of Magic Wand Mini Massagers on our site.
So, what can you expect from the Magic Wand Mini? Will it deliver the same power, control and experience as the Magic Wand Original?
Why the Magic Wand Original Is So Popular
The Magic Wand Original debuted as a personal massager in the United States more than 50 years ago, according to the manufacturing company's patents and trademarks. Thanks in part to sex educators of that era, it did not take long for women to find other uses for the relaxation device, beyond its intended purpose of muscle massages. Yes, for more than a half century, this Hitachi Wand has delivered personal massager pleasure to women throughout America. Of course, in these decades since its debut in the U.S., the device has experienced some design upgrades and improvements. In fact, the line of massagers has expanded over the years to provide pleasure for men, too. Through a full array of available attachments and accessories, you can fully customize your Magic Wand experience.
The Magic Wand Original, a full-sized device with 6-foot electrical power cord, features two speed variations of 5,000 and 6,000 RPM. It weighs only 1.2 pounds and has a 2.25-inch soft round head safe for use on the skin. Thanks to its powerful motor, the Original offers one of the most reliable means of achieving an orgasm.
Is it the best?
Consumers and pop culture icons have developed a variety of nicknames for the Magic Wand, such as the "Cadillac of Vibrators," "Mother of All Vibrators," and "Best Vibrator in the World." It's ability to provide personal pleasure is so renowned that the device was featured as one of the main players in a 2002 Sex and the City storyline. After plugging in the device and giving it a try, most users agree it is worth the hype.
Overall, the Magic Wand's popularity comes from its ability to deliver ongoing, consistent vibration and variable speed to the clitoris, G-spot, prostate and other parts of the body. At between 5,000 and 6,000 RPM, the result is unparalleled stimulation that other devices cannot match.
In fact, the quality of this experience is not one users want to leave at home when they travel. But it can be difficult to discreetly pack a 12-inch corded device into a carry-on bag, overnight bag, suitcase or purse. In this respect, for people not wanting to leave their Magic Wand experience at home, size can definitely matter. Thankfully and after extensive customer feedback, the makers of the Magic Wand Original have created Magic Wand Mini!
About the Magic Wand Mini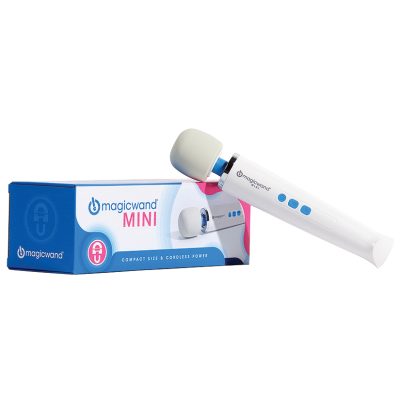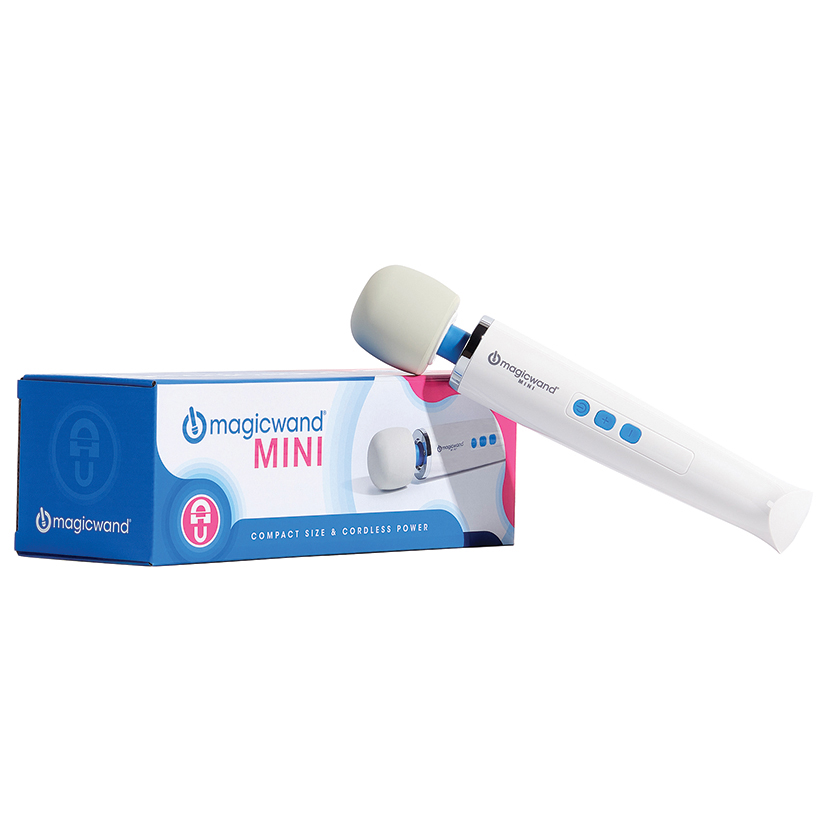 The Magic Wand Mini is a compact 9.6 inches long and 1.9 inches in diameter. But at only 9.7 ounces, it delivers the same pleasurable experience as the Magic Wand Original. In fact, the Mini features three speed variations, not just two! You can alternate between 3,500, 5,000 and 6,000 RPM. Its brushless motor is quiet and powerful at the same time, providing deep vibrations right where you want them.
Of course, like the Original device, the Mini features a soft silicone head and flexible neck. The rechargeable battery operates for up to 2.5 hours on full charge, giving you the ability to enjoy cordless stimulation, then power back up when an outlet is available. Your only compromise for the Mini's compact travel flexibility is that the smaller head does not fit the Original's attachments.
Beyond being so great for tucking into a handbag or duffel, the Mini can perform as your preferred at-home vibrator, too. The choice between the Original or smaller version are yours. Regardless of how often, when or where you use it, your Magic Wand Mini offers the same level of pleasure as the full-sized Magic Wand Original.
What accessories do I need to buy with my Magic Wand Mini?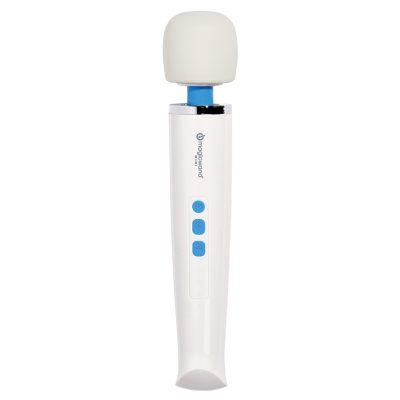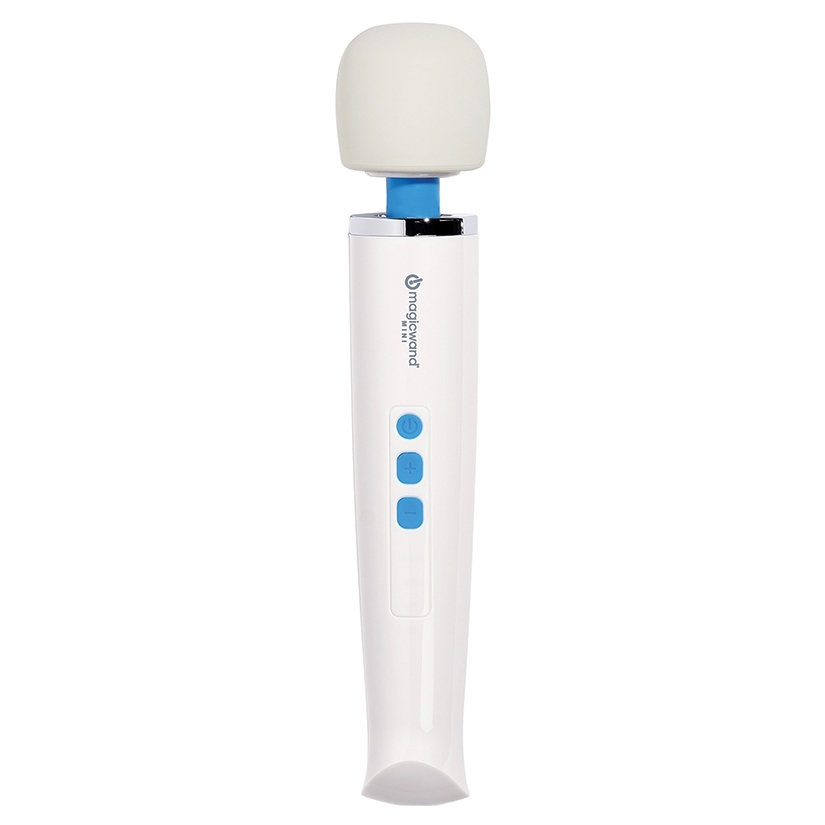 When buying your Magic Wand Mini on TheOriginalWand.com, you receive all of the same benefits as you do with a full-sized Magic Wand Original. Every purchase of a Magic Wand includes a 1-year device warranty. We ship your Wand in discreet packaging, a plain and unlabeled box to maintain your privacy. Our shipping is fast, too! You can expect to receive your new Wand in just a few days, depending on your location. This means that when you purchase your Magic Wand Mini, your pleasure is only hours away!
Besides your Mini itself, there are other accessories you might wish to consider. As with any sex toy, you need to keep your Magic Wand clean. Using a device-safe lubricant also ensures heightened pleasure every time. This is why we offer a discounted package price when you purchase the Mini, Anti-Bacterial Toy Cleaner and 4.4 ounce ID Glide lubricant together. You can find this deal on the Magic Wand Mini page.
If you prefer, you can also shop for antibacterial toy cleaner, device-safe lubricant and other wand accessories from TheOriginalWand.com's Accessories collection. Please do note that the head size of the Magic Wand Mini is much smaller than the rest of our Hitachi Magic Wand massagers. This means our attachments won't fit on the head of the Magic Wand Mini currently.