An honest Hitachi Magic Wand Review
Can you believe everything you read today on the internet?  Hmmmm, probably not the best idea or advice to take.  You might be  thinking, "Why would anyone lie about items on the internet?"  Well, there are a few reasons for this.  We can quickly summarize them for you since this topic could go into great depth and this isn't the forum for diving into the why's.  The three main reasons article writers could fabricate an article and post it online is for Search Engine Optimization (SEO) efforts, Affiliate Marketing efforts or to protect/boost the consumer confidence about a certain product.  This is absolutely not our intent with writing this article today.  We are HUGE fans of the Hitachi Magic Wand so we sell them.  We would like to help customers find out the truth about this wonderful massager, whether they buy from us or not.  So just sit back, relax and read through our honest Hitachi Magic Wand Review.
In writing this honest Hitachi Magic Wand Review, we wanted to clarify what makes the Magic Wand Massager the most talked about massager of all time.  For one, the item itself is really high quality from a manufacturing standpoint because Hitachi LTD has perfected the inner workings of the massager for over 30 years now.  So I guess one could say that, through trial and error, the absolute perfect machine has been created.  The Magic Wand Massager, also referred to as the Hitachi Vibrator, hasn't changed much from a visual standpoint in a VERY long time.  The classic white design with the blue neck and accents has been something that this company has stuck with for years.  When you think about how many different wand massagers are available on the market through online retailers and stores such as Brookestone, it's confusing to decide on the right personal massager for you.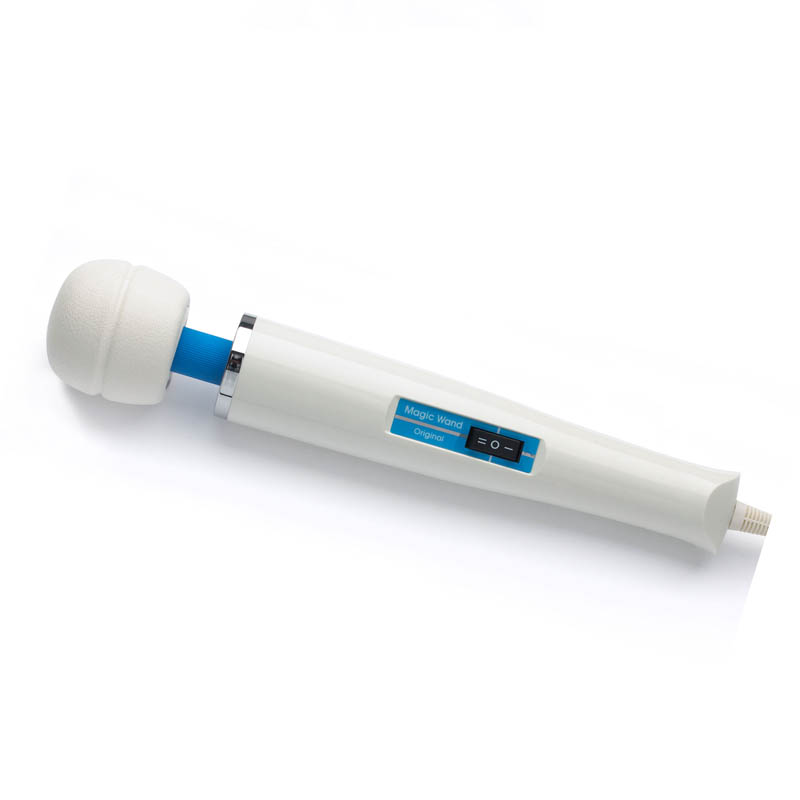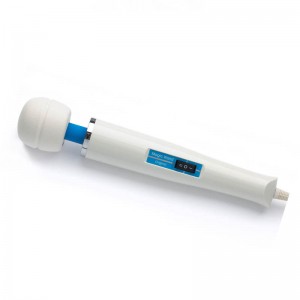 When deciding on which personal massager is the best one (best being a relative term), most would consider the following criteria:
Price
Quality
Strength/Features/Modes
Warranty
Power source (Plug in or cordless)
As we mentioned before, the intent of this article is to provide an objective, honest Hitachi Magic Wand Review so we will highlight the features of this massager with the criteria above.
Price – The Magic Wand Original HV260, formerly known as the Hitachi Magic Wand HV250R, currently retails anywhere from $59.95 to $89.99, depending on the store you purchase it from.  One must be VERY cautious when purchasing any massager claiming the be "The Original Wand" if the price is under this range.  The Magic Wand has been, unfortunately, the most replicated massager of all time as well so the market is flooded with cheap replicas and some not so cheap really good looking replicas for lower prices.  However, the power of the real Hitachi is in the inner workings.  This cannot be replicated by frivolous copycats.
Quality – As mentioned above, the quality of the Magic Wand Original is not even comparable to some of it's competitors.  Hitachi LTD uses a 2 speed function which vibrates this massager at either 5,000 or 6,000 vibrations per minute. Being a plug in massager, you don't get some of the benefits other massagers have such as being cordless but that is made up with the redundant power output this device provides which allows 25 minutes of consistent use.  We recommend turning off the device to allow it to cool down after this time period.
Strength/Features/Modes – Powerful and Very Powerful are the strength/speed although you will notice it's labeled as I and II.  With these two modes, you are sure to find the right sensation for your personal or therapeutic needs.  If you want something in between low and high, you could always get your hands on the best selling Variable Speed Controller.
Warranty – 1-year FULL warranty from manufactures defects.  Hitachi doesn't mess around and stands behind their product.  If the massager should malfunction, you are covered for a full year.
Power source (Plug in or cordless) – Plug in massagers have advantages and disadvantages.  The obvious disadvantage would be the need to be close to a plug outlet.  The main advantage would be the strength of this massager when plugged in.  You will never be let down with low batteries or a low charge when you have this baby in your bag of toys.  Many of our customers love the Variable Speed Controller because it acts as an extension cord in addition to a variable speed controller so this is something to think about when considering it's disadvantage.
We hope you appreciate the honest Hitachi Magic Wand Review we have provided and take a moment to read some of our other articles.  Feel free to contact us anytime so we can assist with any questions you may have!