Hitachi Magic Wand vs. Doxy™ Massager review
Ready for the perfect wand massager but need help deciding which one to choose?  This review just might help you decide which massager/vibrator route to go when on a limited budget.  Personal, hand held, massagers are definitely not a new and exciting invention.  In fact, history shows that electronic hand held massagers existed as early as the 1900's and were perfected from a design and functionality perspective over the past century.  So what's the big buzz about massagers anyway?  Don't they all do the same thing and feel the same way?  Shouldn't one purchase the cheapest massager possible and just throw it away once it breaks?  TheOriginalWand.com will assist with the background history of the Hitachi Magic Wand and Doxy™ massager with a true, objective review of each massager while addressing some of these common questions people have.


The Hitachi Magic Wand has been an iconic handheld personal massager/vibrator for over 30 years.  This massager has not visually changed much in over three decades which has helped consumers worldwide identify this massager by the simple white/blue look.  The Hitachi Magic Wand is a mains powered device which means it's required to be plugged in for use.  This wand massager has 2 speeds (Low and High) which operate at 5,000 (Low) and 6,000 (High) Revolutions Per Minute (RPM).  Most consumers who have owned the Hitachi Magic Wand can attest to how the "Low" speed really isn't Low.  Let's be real honest here, the Hitachi Magic Wand is a powerful beast which could be unleashed for multiple purposes.  Historically, Hitachi LTD made this device as a household personal back massager and has only the intent of this very purpose for their consumers.  No fault of Hitachi's, consumers quickly started to realize how great of a "Multi Purpose" massager this really was since it could solve your common aches and pains while reliving your sexual tensions as well.  The Hitachi Magic Wand has been a big hit with consumers because it has a soft 2.5 inch head which could reach those difficult areas in the middle of your back.  This soft circular head helps pain dwindle away since pressure and pain start in one specific area in the body and could spread.  The Hitachi Magic Wand has a firm spring covered by a blue plastic material which allows the bending of the soft head so one could apply the needed pressure when massaging.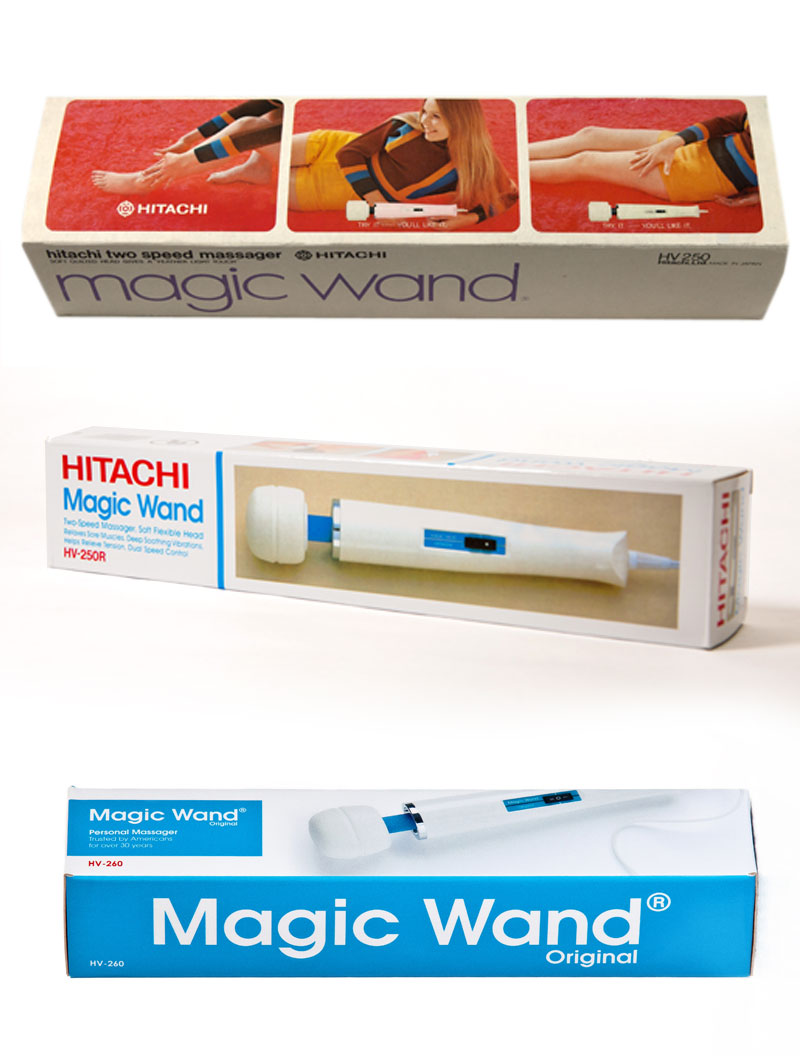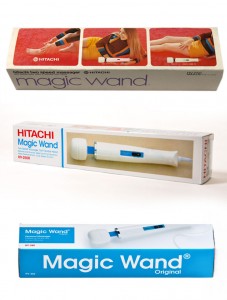 As of August 2013, Hitachi LTD decided to change the name of this massager since it no longer wanted to be associated with a personal massager which had "Dual Purpose."  We believe Hitachi's intent was to just produce a handheld back massager and once their magnificent creation started to venture in different arena's this large conglomerate wasn't part if, it felt it was best to remove the "Hitachi" name.  However, Hitachi never stopped producing the massager and continues to do so today under the name "Magic Wand Original" which is imported by one of their master distributors.  Okay, enough about the history lesson and lets move on to the basic functions on this device.  The Hitachi Magic Wand comes with a 6 foot power cord which gives plenty of space for consumers to operate this device from your closest power plug.  All Magic Magic Wand Original massagers come with a full 1-year warranty and will provide you a great "bang" for your buck.
Going back to the original questions that were brought up before, are all massagers the same and shouldn't one just buy the cheapest one?  This is definitely a "NO!" The Hitachi Magic Wand, with it's much deserved success, has also attracted many replica producing manufacturers who try to play off their fake massager as the real Hitachi.  The reason why you don't want a cheap imitation is because they are not nearly as powerful since these replica massagers are made with low quality parts and have not been UL approved.  There has been many instances where these cheap replica wands have caught on fire and almost caused significant harm to the user.
Overall, the Hitachi Magic Wand, AKA Magic Wand Original, is a fantastic device which provides great value and a superior product which is proven to last you for many years.  Currently coming in at $69.99, this device is a great value add to your toy collection.


The Doxy™ massager is a fairly new contender to the wand massager business and has been introduced to market in 2013.  The UK based company produces this massager as a direct competitor to the Hitachi Magic Wand and has no reservations with making claims such as "Much better than the Hitachi" or "More powerful than the Magic Wand."  Let's take a look at the Doxy™ wand and see how it compares to the Hitachi Vibrator.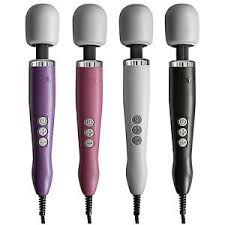 The aluminum cast on cast based device does offer powerful vibrations with the similar body size and shape of the Magic Wand Massager.  Doxy™ claims that this massager does operate at 9,000 RPM's which is stronger than the magic wand's high function.  The concern about a very high revolutions per minute device is the safety aspect of it.  As electronic devices work at a higher or stronger revolutions per minute, this also enables the device to get hot quickly which is something that consumers need to be aware of.  Doxy™ does not mention anything on their website about overheating so it cannot be confirmed if this is an actual concern/issue or not.  It is unknown if the Doxy@ is UL approved and something to consider before making your purchase.  Doxy could be contacted directly on their website if you would like to inquire about this specifically.
This massager does come in 4 different colors (Black, Red, Purple, White) which is a nice touch to have since consumers do have different taste/preference as far as the visual presentation of the device goes.  The Doxy™, like the Magic Wand Vibrator, is a mains powered device and has larger buttons to control speed and power which is useful.  Since this is a fairly new item in the market, we went to Amazon to see what the price of this wand is and what consumers are saying about this massager.  As with any device, there are mixed reviews on the Doxy™ so it might come down to trying it and then deciding if it's right for you.  One thing we did notice on Amazon was the price of this device which currently comes in at $149.99.  This is significantly more expensive than the Hitachi Magic Wand (current at $69.99) and doesn't seem to make sense why?  Both devices are mains powered and prove similar functionality so we are unsure if the pricey premium is worth it for a slightly more powerful device.  This is something definitely to consider since Hitachi has fired back most recently with their cordless more powerful wand called the Magic Wand Rechargeable.  Seems the battle for the best massager will continue. . .
Ultimately, both of these massagers do the job well and could help you relieve pain and sexual tension.  Hopefully this review assisted you in making your decision for the Hitachi Magic Wand or the Doxy™ Massager.  Please contact us with any questions or comments about these devices and we will help in any way possible.