Magic Wand Rechargeable vs LELO Smart Wand Large
Recognizing that good things aren't cheap and cheap things aren't good, have you wondered what the differences are between the Magic Wand Rechargeable HV270 versus the Smart Wand large version by LELO?  If the specifications between the two of these higher end wand massagers confuse you, you are going to want to read further as we explain the main differences of these wands.  For full disclosure, TheOriginalWand.com does sell the Magic Wand Rechargeable and has heard back from many customers who absolutely love this device.  However, we do not stock the LELO Smart Wand at the time of writing this review so the information in this article will be purely based off our knowledge and expertise of the Magic Wand Rechargeable in addition to the information made available on the LELO Smart Wand.  So without further ado, let's kick it off with the Magic Wand Rechargeable, Model HV270.
Magic Wand Rechargeable


So after countless customer requests to make the Magic Wand Original, formerly known as the Hitachi Magic Wand, into a cordless version, the makers of the Magic Wand went for it and created the new Magic Wand Rechargeable, Model HV270.  Not to be confused with the "baby" model HV260, the Magic Wand Rechargeable is definitely a higher end massager with the iconic roots of the legendary Hitachi Massager.  The basic specifications on the Magic Wand Rechargeable is that it's cordless, comes with 4 vibrating speeds and 4 pulsating patterns.  One of the greatest features of the Magic Wand Rechargeable is that it's truly plug and play since you can charge it, use it and plug it in for further use if you ran out of power before you wanted to.  Although consistent use of over 25 minutes is not recommended for this massager (really all massagers since you don't want them to overheat), you would be able to take a quick break after this consistent use, let the device cool down, then go at it again!  Coming with a long 6 foot cord when you want to plug in the device, the Magic Wand Rechargeable will not disappoint you when you need it the most.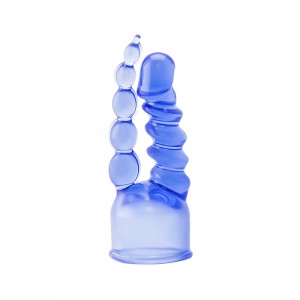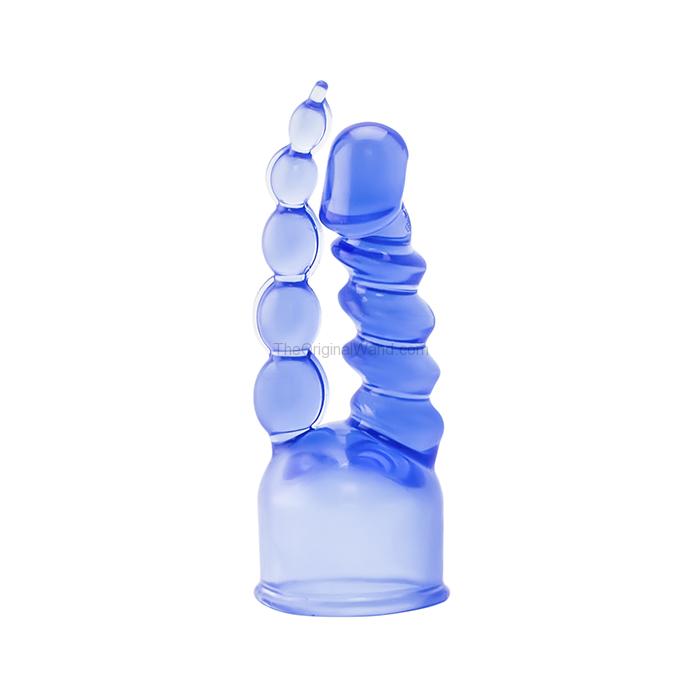 The Magic Wand Rechargeable comes with a high quality silicone head which has a very nice, luxurious, feel to it but could also withstand the use and abuse of any wand attachments available at TheOriginalWand.com.  Operating on a 100-240V electrical outlet and weighing in at approximately 1.3 pounds for the massager alone, you are definitely getting a high end, powerful wand which could be used for your most brutal pain points in addition to your most intimate desired locations.  Being ETL listed and backed by a full 1-year warranty, this wand is really hard to beat and will give you the best bang for your buck.
LELO Smart Wand – Large
The LELO Smart Wand Large is a high quality massager made almost entirely of high grade silicone which has a soft touch and feel.  This massager is a luxury item and you will notice this right away from the box itself.  This wand comes in three different color choices which are designs in black, purple and white.  Designed as an intimate massager, LELO states that this massager could be used for deep tissue therapy as well and is powerful enough to massage the pressure points you are looking to work on.  Right out of the box, the LELO Smart Wand does require charging and this could be easily done with the included charger and instructions that come with this device.  2 hours of charging will give you approximately 2 hours of play but is not suggested to be used consistently for 2 hours.  This is very similar to the Magic Wand Rechargeable since this device requires about the same time to charge and will keep charge for at least 2 hours.
LELO being a producer of high end and high quality products didn't draw the line with this massager.  The Smart Wand actually comes with a Magic Wand Rechargeable similar 1 year warranty and will cover consumers on any wand defects during this time, free of charge.  LELO does note that if there are any problem with the wand within a 10 year period, LELO will provide a 50% discount on your next LELO order.  This is a nice bonus from LELO considering electronic items could have malfunctions throughout the years, no matter who the manufacturer is.  There are a few clear advantages of this luxury wand vs the Magic Wand Rechargeable.  For one,  the LELO Smart Wand comes with 8 vibration modes which allow you to increase or decrease the speed within each mode.  LELO also is a 100% waterproof massager and comes with a high quality seamless design.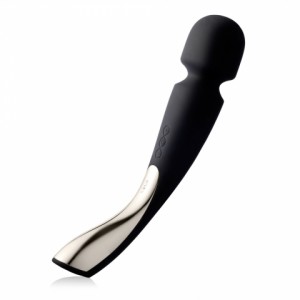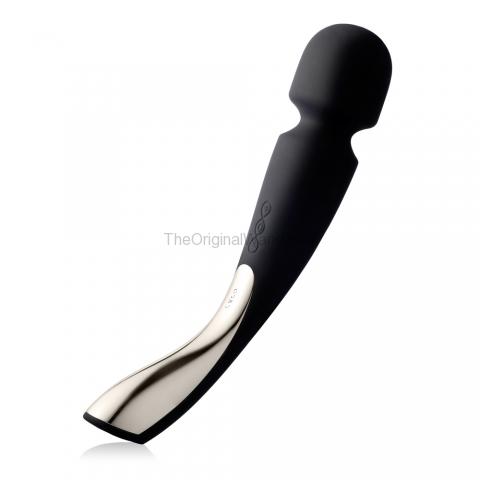 The LELO Smart Wand Large does come with a very unique feature many massagers don't come with.  This feature, which LELO calls "Sense Touch," is an automatic pressure recognition function which fluctuates the power intensity of the massager by how much pressure is applied to the human skin.  So for example, you can activate the Sense Touch feature on this massager and gently apply it to your skin for a soft, soothing feel.  However, when you come across an area of your body which requires a little more pressure and more powerful massage, all you have to do is press the head of the Smart Wand against your skin and the power intensity will increase without adjusting any of the controls manually.  This is a very cool feature we must admit.  However, there is some drawbacks with this feature because they do not work with any wand attachments on.  This was kind of a deal breaker for most when comparing it against the Magic Wand Rechargeable since most wand massagers such as the Magic Wand Rechargeable could be used with wand attachments.  Consumers love attachments because they provide different pleasure experiences with the same device.  All you would have to do is change the attachment and it feels like a completely different experience.
The Smart Wand is definitely a high quality, luxurious, wand.  With this said, you have to be ready to dish out some $$$ for this massager.  The LELO Smart Wand Large is currently going for $199 which is priced about $60 higher than the Magic Wand Rechargeable.  If price isn't a concern for you and you need the waterproof design, the LELO Smart Wand might be just what you're looking for.  If you want a solid performing wand made by a iconic company who knows how to make strong, reliable electronic devices, you should check out the Magic Wand Rechargeable.
We hope you have enjoyed this review and it has helped make your decision if you were comparing the Magic Wand Rechargeable versus the LELO Smart Wand Large.  You can contact us anytime if you have any questions on these items or any of our other items at TheOriginalWand.com.