Making sex fun with Flavored Condoms
Who says condoms have to be boring? You use fun toys, pretty lingerie, scented body oils and other products to spice up you sex life. Why leave something as important as condoms out of the fun? While they may not be the first thing you think of for adding excitement in the bedroom, there are a lot of great new condoms on the market that add a burst of fun to safe sex.
Let's face it—no one likes the taste of latex. Nothing turns people off than a plastic-y taste hanging around their taste buds for hours! Men enjoy receiving oral, but they love it even more when their partner is totally into giving it! Lifestyle flavored condoms add options and spark to foreplay by giving you a burst of flavor while you give your man a blast of pleasure. Maybe going downtown isn't high on your foreplay list, or you find you lose interest in giving a blow job after a few minutes. The lingering taste of latex in your mouth and on your tongue can be a big turnoff. However, the stimulation and taste of a flavored condom can help you be more attuned to the act, and heighten you senses to make the experience more pleasurable for both of you. Especially when you're not left with a clinical taste in your mouth later on. Instead, you'll enjoy a flavorful remnant of strawberry, chocolate or whichever flavored condom you choose.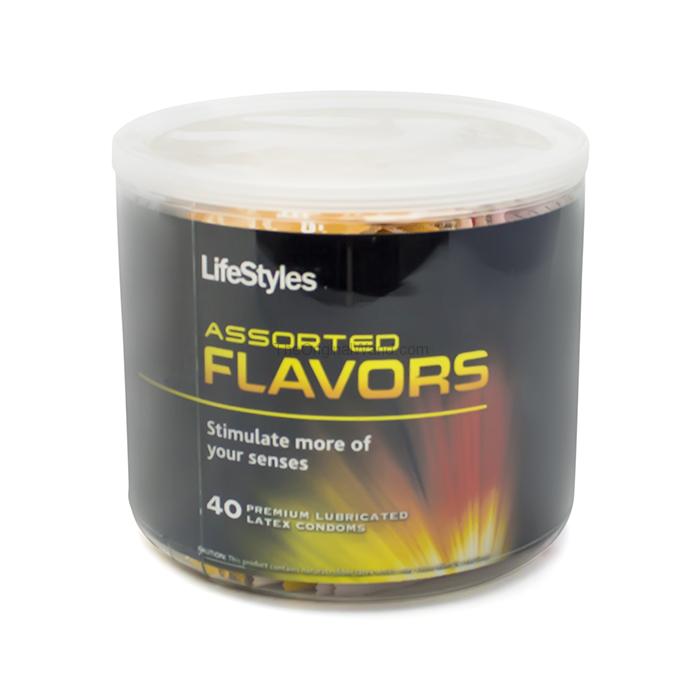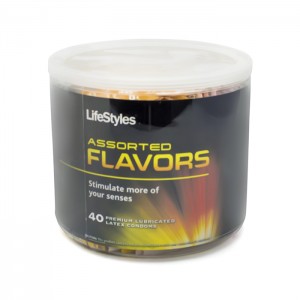 Condoms have come a long way since their early beginnings. At one time, condoms were thick, poorly-fitting sheaths that offered little pleasure for anyone involved in using them. Thankfully times have changed! From ribbed for her pleasure, to ultra-thin and even glow in the dark varieties, there's virtually a condom for everyone! Say goodbye to boring, old latex. Flavored lubricants on condoms with bright colors are one more addition to the growing novelty, but effective, condom line-up. Once you unwrap the condom and roll it on, the special lubricant spreads over the condom for a full, sensory experience. The flavor lasts long enough for you to get, and give, some epic oral before wearing off. Some couples like to use flavored condoms on their favorite dildos, vibrators or other toys for added oral stimulation while engaging in sex play. Going for an all-nighter? Mix it up by choosing a different flavor each time! There's no way to get bored when you have so many flavors in this bulk container to choose from.
Play it safe by stashing a few Lifestyle flavored condoms in your handbag, travel bag, car or anywhere else you may need to grab quick protection. Whether you're using flavored condoms for pregnancy and sexually transmitted disease prevention, or just to add a new dimension to your sex life, Lifestyle has you covered. These individually wrapped condoms come in vanilla, chocolate, blueberry and strawberry flavors. They are safe for oral and vaginal and anal use. You'll receive a bulk amount of flavored condoms in assorted flavors.