Using Bondage Rope when it's time to play
Bondage Rope isn't new. Centuries ago in Japan, restraining a captive with intricate patterns and knots was an art form that brought honor to a captor. Over time, rope bondage took on an erotic twist. Now the practice of Shibari or Kinbaku includes restraining your partner with beautifully rigged rope, formed into patterns that flow with the human body, and knots that often apply pressure to sensual points on the body. Luckily, you don't have to be a bondage master to enjoy the practice. Anyone, with a willing partner, patience, and a little curiosity can reap the benefits of adding bondage to their sexual play.
Bondage has seen a rise in popularity over the last few years thanks to its portrayal in mainstream books and cinema. Once considered taboo, and mostly practiced behind tightly closed doors, rope bondage has opened up a new world of sexual and sensual play for anyone interested in the practice. You can now readily find resources for beginning bondage to help you start, master, and advance the practice. The first thing you need is absolute trust between you and your partner. The second is a high quality bondage rope. Bondage rope should be smooth and scratch-free so it lays comfortably against the skin. Our cotton Japanese Bondage Rope ties easily and the natural fibers won't irritate the skin and reduce enjoyment for your partner.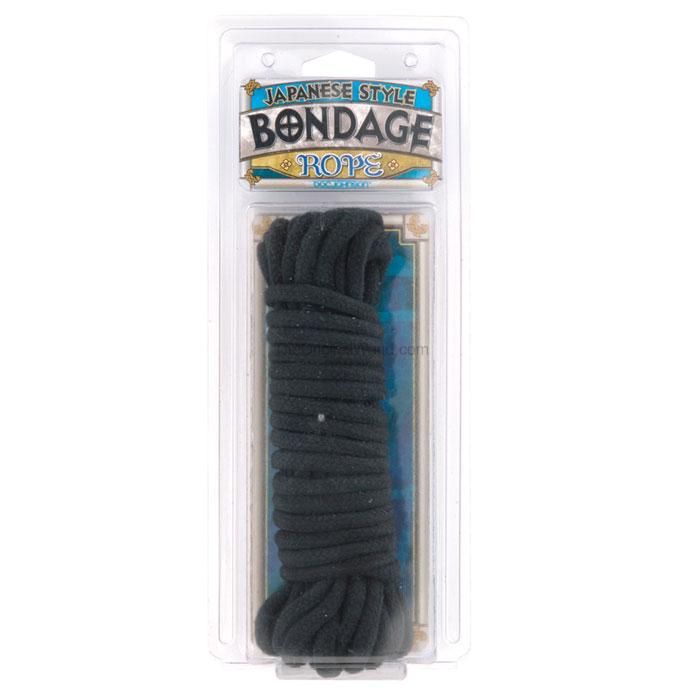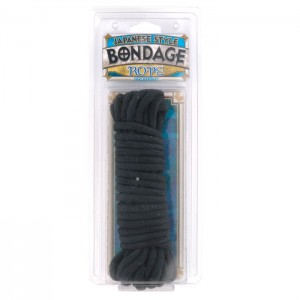 Bondage is meant to restrict your partner's movement. How much is between your partner and you. Some people like to decorate their partner with advanced Shibari techniques. Others just want to test their partner's boundaries. No matter what your end goal with bondage is, starting small and working your way up can make the practice more comfortable for both of you. If you're new to using bondage rope, you may want to start with simple restraints techniques like ground tying. This includes tying the rope comfortably but firmly around your partner's wrists or ankles, and securing the loose rope end to a sturdy surface. This restricts how far your partner may move away from you. Having your partner lie on his back on the bed and securing his wrists and ankles to the bedposts are another way to introduce the practice. Or, simply tie her wrists together to restrict the use of her hands during lovemaking or sex play. Some people find it especially exciting to be restrained while their partner uses a vibrator or other pleasure toys on them. Additionally, many couples include bondage in their role playing. Use your bondage rope to live out a fantasy of captive/captor, boss and secretary and so much more. Keep open communication and imagination on your side, and there's no telling what you and your partner will enjoy!
Our Japanese Bondage Rope is a generous thirty two feet in length for unlimited possibilities. It's made from non-chafing, non-irritating cotton fiber. Cotton bondage rope may be washed as needed with warm, soapy water. May also be easily cut into smaller sections depending on your needs.  If you are interested in Bondage and don't know where to start, you might want to read about how to get started with Bondage when life feels grey.