Play with Trojan Condoms Fire & Ice for that different feeling you have been looking for
Who says Trojan condoms can't be functional and fun? If you've never thought about spicing up your sex life with a condom before, think again. Trojan Pleasures Fire and Ice condoms offer the spark you've been looking for. With a specially formulated, dual lubricant for him and her, these condoms bring a blast of coolness and rising heat to tantalize your inner nerves and send you over the edge. First comes a cool blast which increases as your excitement does. Both you and your partner will experience the cooling effect, which helps stimulate your pleasure and make the, "slow build" last longer. Then, a warming sensation sets in to heat up your sensitive areas. Some users report the sensations work together with each thrust, allowing them to feel moments of cold and heat simultaneously, while others feel them separately. Combined, the sensations help you reach the ultimate pleasure!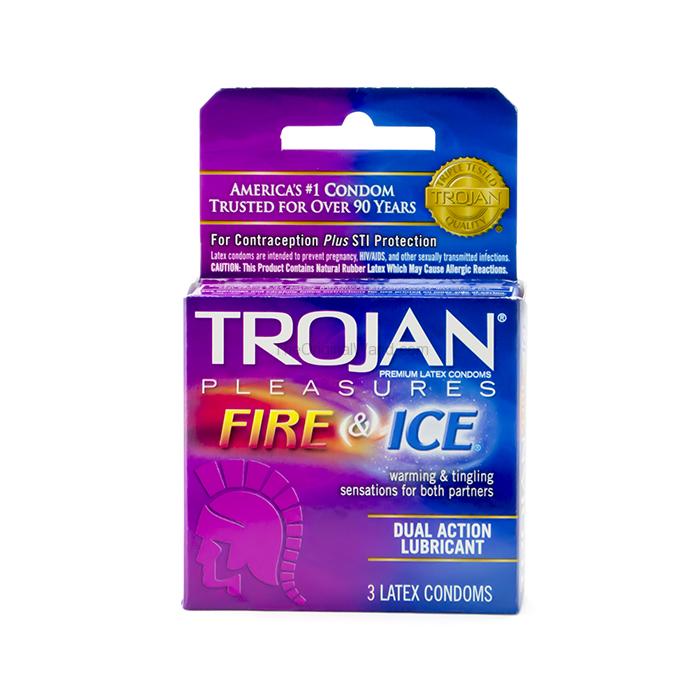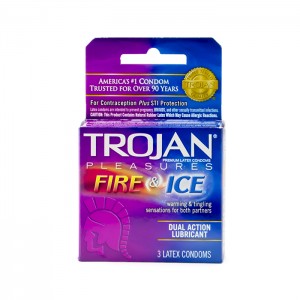 Sound fun? Well, there's more to enjoy! Trojan condoms are America's #1 selling and trusted condom brand. They knew early on that boring condoms needed a make-over. They've since innovated condoms to suit almost any preference, with equal focus on men and women's needs. In addition to the Trojan Pleasures Fire and Ice condoms, some couples also enjoy a condom with some texture, like ribbing. Ribbed condoms can stimulate a woman's inner nerves the way the smoother surface of a bare penis or non-ribbed condoms can't. Trojan offers two wonderfully ribbed condoms for textured, ultimate stimulation. Trojan Stimulations Ultra Ribbed offers smooth ridges along the condom which add extra sensation and can help bring her closer to orgasm during penetration. The ridges rub against her inner nerves with each thrust, sure to drive her wild with nuanced pleasure. Additionally, the Trojan Her Pleasure contoured and ribbed condom offers ridges along the length of the condom. Its unique shape and ribbed pattern add stimulation right where she needs it. Pre-lubricated, both condoms offer great sensitivity for him, ensuring that he receives the stimulation he needs for a satisfying release.
One of the main complaints about condoms from men is that they experience a lack of sensation and sensitivity with basic condoms. Trojan fixed that by creating condoms with exceptional sensitivity just for him. Trojan Condoms Sensitivity Ultra Thin condom is 25% thinner than a standard condom, but just as safe and effective, allowing him to experience more sensation than with other brands. They come pre-lubricated for her pleasure. If you're a man of larger penis size, the Magnum Trojan Condoms are made just for you. These ultra-thin condoms are available in a larger size to keep your man comfortable, excited, and happy!
Remember, you always need a stash of quality condoms on hand! Latex condoms protect against pregnancy, HIV/AIDS and other sexually transmitted disease. No matter what type of Trojan condom you choose, be sure to keep a few on hand (stashed in your purse or wallet) or anywhere else you may need to grab quick protection for those unexpected moments. All Trojan condoms are mechanically tested for efficiency. Made in the USA.  If you like Trojan Condoms and want to check out some other options as well, be sure to view all our condoms.