Ready for a dual penetrating Anal Vibrator?
There's nothing quite like the sensations created from dual anal and vaginal penetration. The nerve combinations found in the vagina and anus are worthy of exploring on their own, but when they come together, hold on! Add in sweet vibrations and you're in for one amazing experience.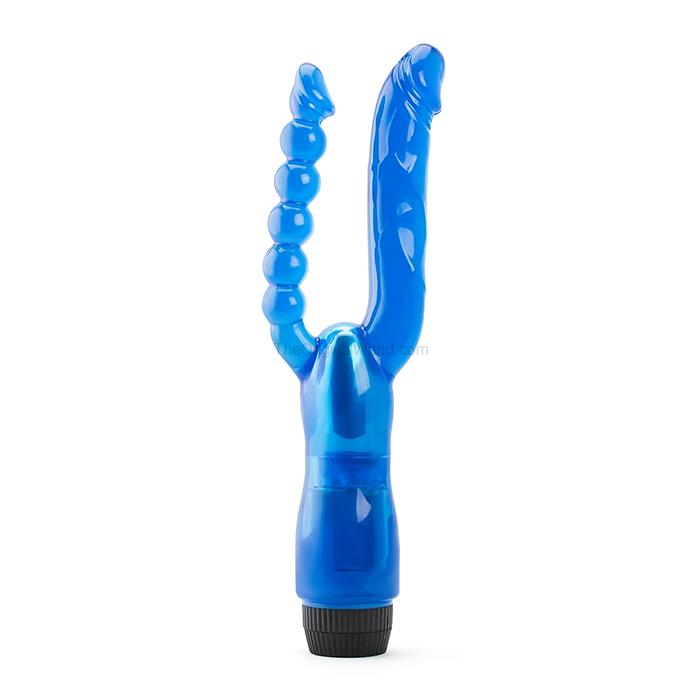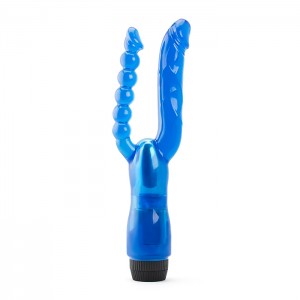 Anal penetration might not be something you've tried or had much experience with. But if it interests you, and excites you to explore it more, trying a dual penetrator with anal vibrator can be a good way to start. Even if you're experienced in anal play, a dual vibrator can be the ticket to increasing pleasure and further exploring your sexuality. There are many products to choose from that offer dual penetration. The Dual Penetrator with Anal Pearl Beads offers a great size and design for beginners, or those looking to add an additional, highly pleasurable toy to their toy box.
The Dual Penetrator offers two pleasure wands. One wand has small, smooth anal beads, and the other, a five inch vibrator shaft. A vibrator motor meets at the base to provide vibrations to both shafts at the same time. The anal beads are designed to caress the incredible nerve endings inside your anus. By gently thrusting the vibrator in and out, the beads work back and forth against your inner walls, creating amazing friction and sensation. Added anal vibration increases your pleasure. Insertion is easy. Add a little of your favorite lubrication along the anal bead wand, and slowly insert as far as you feel comfortable. If you're new to anal play, consider experimenting with just the anal wand until you're comfortable. Relax and enjoy the variety of sensations the beads will cause.
The vaginal vibrator wand offers a realistic head and smooth, thick shaft. Both wands offer just enough firmness for effective and pleasurable penetration, but needed flexibility for comfortable insertion. You may find it easier to insert the anal vibrator wand part way before inserting the vaginal shaft. Once you have both in place, slowly ease them in all the way and turn on the vibrations. With three speeds, you simply twist the base of the vibrator to adjust and work your way up intensity levels. Instead of a thrusting motion, you may choose to insert the dual penetrator and hold it in place while the vibrations do their work. Or, you may find a combination of thrusting and resting to work the best. Exploring, especially if you're new to anal vibrators, is a fun way of figuring out what you like the best.
A dual penetrator can be a great way to initiate anal play and work up to larger anal pearl beads or other types of anal toys. Many women report intense, erotic sensations when using an anal vibrator. Having added vibrations inside your vagina can stimulate your G-spot and even nerve endings from your clitoris. Not a bad way to try a little anal play, wouldn't you agree?
The Dual Penetrator anal vibrator is made from rubber Crystalessence material. Easy to clean with a damp, soapy cloths.  Enjoyed reading about this Anal Vibrator?  You might also like reading about the multiple powers of the Magic Wand Original.