Is the Butterfly Vibrator what you have been looking for?
Oh, the G-spot! You've probably already heard about it, and how intense G-spot orgasms can be. Not only does this amazingly sweet spot deliver powerful pleasure on its own, it can actually increase in intensity when combined with clitoral stimulation for the ultimate orgasm. While manual finger stimulation works for many women, it can tie up your hands and even become tiresome. Toys that offer dual clitoral and G-spot stimulation, like the Butterfly Kiss Vibrator, can make the process so much easier while keeping all of the fun, and the pleasure.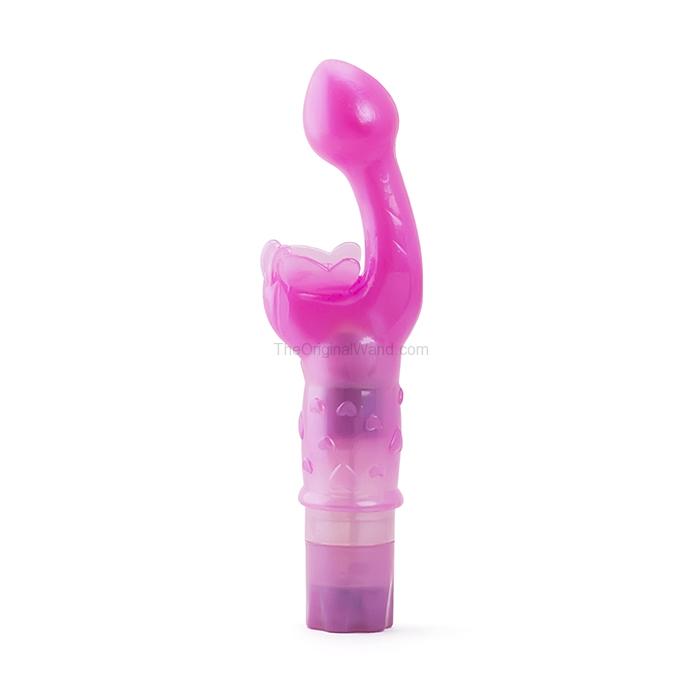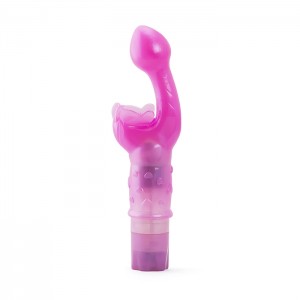 Because the G-spot is located only about 3" just inside the vagina on the upper vaginal wall, it's relatively easy to access once you've become accustomed to finding it. A small vibe, like the Butterfly Vibrator, is the perfect size for finding and stimulating your spot. The "butterfly" stimulator makes this vibe extra special. Not only does the wide, contoured head insert easily to rest against your G-spot, the butterfly antennae caress your clitoris while the wings gently tease your inner vaginal lips for extra stimulation. You'll experience vibrations against both your G-spot and your clitoris, wrapping you in explosive sensation as you reach climax. You may find that tilting your pelvis up slightly by placing a small pillow or two beneath your hips, brings the vibrator closer against your G-spot and increases the intensity of sensations.
Because of its smaller size, this butterfly vibrator is versatile and remarkably easy to use. You may find you enjoy a slow thrusting of the head in and out, bringing the vibrating tip into contact with your G-spot, while the butterfly connects with your clitoris upon each thrust. Some women prefer the wide tip to be pressed against their sensitive area, with pressure increasing or decreasing as her pleasure builds. For others, a consistent tapping motion of the butterfly vibrator's head against the G-spot creates incredible pleasure. Simply, gently tap on the base of the vibrator once it's inserted. Any combination of these can build and draw out intense clitoral and G-spot sensations. It's effortless to use on your own, or with a partner.
The Butterfly Vibrator has three vibration speeds for you to explore. You may find that dual stimulation is very intense at first. Adjust the vibration intensity until you've acclimated to what you're feeling, and work up as you're able. You may find that a gentle vibration is enough to get you there. As you experiment, more intense vibration may do the trick, or any combination! A button at the base of the butterfly vibrator easily changes speeds. The build-up to a G-spot orgasm may take longer when you first get started. Some women find they have a clitoral climax first, followed by an intense G-spot orgasm.
The Butterfly Kiss G-spot vibrator is made from soft, jelly-like material. It's flexible, so it conforms to your body and offers ultimate comfort. It's waterproof for fun play in the tub or shower, and washes easily with a damp, soapy cloth.  Enjoyed reading about the Butterfly Vibrator?  You may also enjoy reading about the 14 things people love and hate about vibrators.