Owning a penis pump could be a life changing move
Guys, never worry about your size again. Increasing erection length, girth and erection quality can be achieved simply, comfortably and best of all, reliably! If you've ever wished for these things, but weren't sure how to go about it, a quality penis pump is the perfect tool for enhancing your size, and confidence.
The Beginner's Power Pump is an efficient, easy-to-use pump for men who have never used a penis pump before, or those wanting a simpler model. Once prescribed only by doctors and therapists, penis pumps were developed for men who had trouble getting or keeping an erection. Luckily, breakthroughs in the market now make them available to everyone. You don't have to have a medical condition or erectile problems to use one! However, if you do, definitely give a penis pump a try. Due to their design, a quality penis pump will not only help you get a firmer erection, it increases the length and girth of your penis.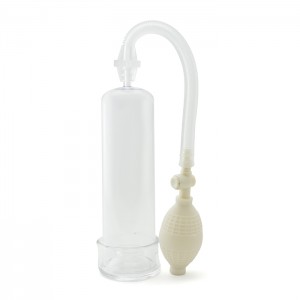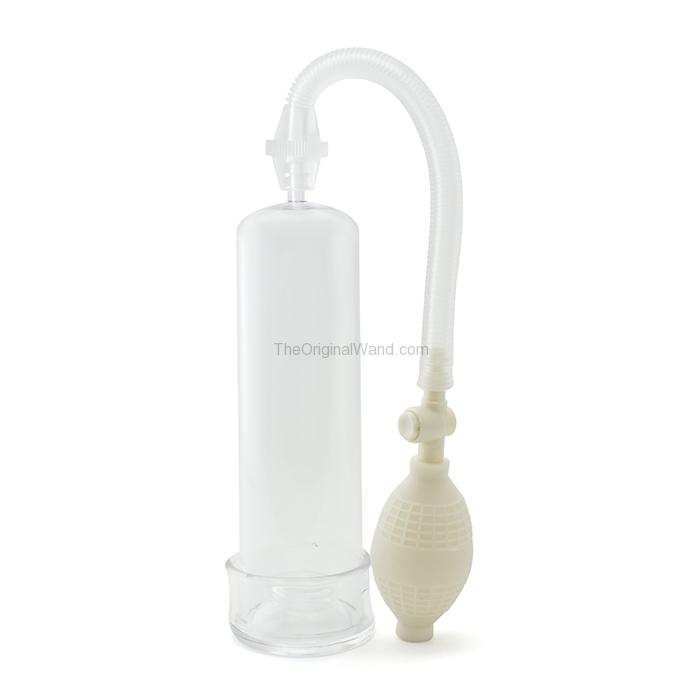 The pump has a clear acrylic chamber with a snug, yet comfortable seal that holds the chamber in place and allows a vacuum-like seal. A medical grade ball pump is easy to squeeze and increases pressure inside the chamber. Your body reacts, the tissues gently expanding and allowing increased blood flow to the penis. Once pumped all the way, the pressure inside the chamber causes the blood to be trapped inside, allowing you to have a harder, throbbing erection. Thanks to the clear chamber, you'll be able to watch as your member grows and thickens—a turn on in itself!
Safety is, of course, important anytime your penis is involved! The Beginner's Power Pump is safe to use and leaves the amount of vacuum applied completely up to you. Be sure to add a little bit of lubricant to the seal at the end of the chamber before you penetrate it. Hold the pump firmly against your body with one hand, and use the other to operate the ball pump. Once you've pumped the ball pump to the pressure that feels good to you, hold the penis pump in place for five to ten minutes. It's not recommended to go beyond ten minutes, as this could damage the delicate tissue. Then, open the release valve and to break the vacuum-like seal. Now, admire your amazing, improved erection! To help keep your erection full and hard longer, consider using a cock ring once you've removed the pump. This helps keep the added blood flow to your penis effective longer.
Some men report that after using a penis pump a few times a week, they notice permanent improvement to penis length and width. However, don't worry about going slow! It may take a few tries before you reach your goals. The first time or two that you use the Beginner's Power Pump, focus on the feel and the visual stimulation that comes with watching your penis grow. Once you're acclimated to using the device, it will become an easy part of your sex routine.
The Beginner's Power Pump penis pump has an acrylic chamber, with a non-crimp hose, quick release valve and medical-grade ball pump. Lubricant is recommended with use. Simply wash with warm, soapy water or sex toy cleaner after each use. Phthalate free.